Lake, in an Annenberg Media story published this fall, says he rarely sees people who look like him while walking the halls of USC's dental school.
The story recounted the experience of John Alexander Somerville, the first African-American to attend USC, and the only black student in the dentistry program. Somerville graduated in 1907, and more than a century later history is repeating itself.
"I walk around these halls and rarely see people who look like me," Lake says. "That's so far-fetched to think about now since the America you walk in is so diverse."
Somerville's story inspired Lake, who says he wants to be a motivating force for black youth, too. He hopes to set a standard for youth as a way to "pay it forward" like Somerville paved the way for him.
"He's as much a pioneer as anybody else in this country," Lake says. "That's a big deal. Without him, there would be no me. He should be recognized somewhere in the school."
Lake "pays it forward" by volunteering at middle schools like Dean L. Shively Middle School in South El Monte. He talks to students about the steps he took to become a dentist, the importance of education and serving in your community, and about being a well-rounded person.
"'If he's doing that I can do that,'" is what Lake hopes youth will say when they see him as a dentist. "It's important to have these black faces in any kind of professional setting to show the young folk that it's possible for them to do it."
He can sense his influence through interactions with patients who are surprised to see a young, black dentist. He hears well wishes and "God bless you" from these supportive patients.
Lake was inspired by his dad, Dr. Lennox Wharton-Lake of Washington, D.C., who is also a dentist.
"My father has been my role model, not only as the professional he is but as the person and man that he is," says Lake, who's never had a cavity.
He and his dad are a dynamic duo. They are bound by blood, background and business, and will be more tightly bound when the younger Lake takes over his dad's dental practice a few years after graduation.
Both father and son graduated from Howard University with doctorates of dental surgery — Lennox in 1987 and Djavan in 2014.
Lake is studying to become an endodontics specialist, which involves preventing, diagnosing and treating diseases associated with the roots of the teeth. Lennox is a general dentist, and his example also reached his other child, daughter Narissa Wharton-Lake, who is in medical school in Jamaica studying to become an orthopedic surgeon.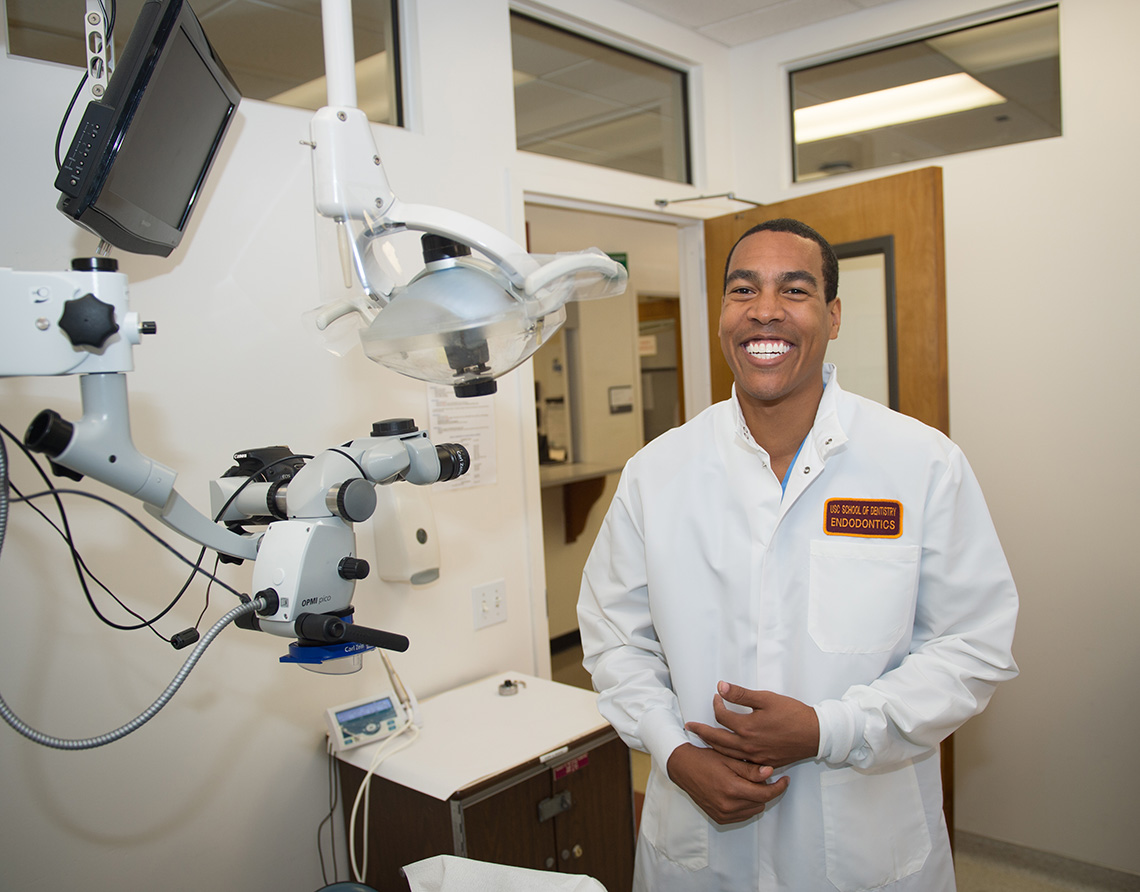 Photo by Alan Mittelstaedt
Both father and son consider Trinidad home. Lennox is from Trinidad and Djavan considers Trinidad home because of his family ties there, although he and his sister were born in D.C. Narissa and Djavan's mother, Beverly Wharton-Lake, is also West Indian, hailing from the island of Tobago.
Lake tries to visit Trinidad at least once a year. The tradition of his parents taking him to Trinidad as a child, his extended family in the country and the beauty of the island keeps his heart tied to its sandy shores. He says it's where he's happiest.
Both father and son are patient-oriented and want to give back to their West Indian home.
Lake fondly remembers a "remarkable" mission trip to Jamaica he accompanied his dad on in 1996. In conjunction with Howard University, Lennox ran a dental clinic stationed at a church for patients who Lake says may never have had a cleaning or any dental procedure in their lives.
"One of the main things that I took from him wasn't even the whole technical part of dentistry, it was forming the bonds and relationships [with patients]," Lake says of learning from his father. "That's where I get my chair-side manner from. He's probably the best."
Now Lake, who completed his residency at UCLA, is also showing the same care and trust required in dentistry outside of the clinic.
Radhika Tandon, one of Lake's close friends in the endodontics program, describes him as supportive, reliable and approachable. Tandon, who's from Mumbai, India and is also in her first year of the program, says Lake makes sure that everyone is having fun while working and often checks on other students because of the high stress level of the program.
Lake's professor Dr. Rafael Roges, the director of the endodontics program at USC, also praised him.
"He's a good team player," says Roges, who's taught dentistry at USC since 1990 and completed his residency in endodontics at USC in 2004.
Roges says Lake's personality was one of the reasons he was accepted in this highly competitive program comprised of only 10 students. Roges describes him as friendly, dedicated and easy to talk to.
Tandon agrees that he's easy to talk to. She says they got along right away when they met in June 2016. She says they understand each other culturally because of Trinidad's large Indian population.
"When he enters the room, he lights it up," Tandon says. "He has a very positive influence on everyone."
In the middle of a darkly lit classroom in the dentistry school, you might be able to spot Lake by how he lights up the space. He'll greet you when you walk in. In between his professor speaking, he'll check on what's going on in your life or make you laugh.
Maybe his infectious smile will give him away in the way it crinkles to reveal a dimple on his left cheek. You might turn your ear toward him when he laughs robustly with his dark brown eyes squinted and head tilted back. Or you might sense his energy that's as electric as his bright blue and grey sneakers.
If somehow you manage to miss these signs of Lake, you'll finally recognize him by how he makes you feel.
He says he lives by this creed: "I want people to recognize me as a man who has worked hard to get where he wanted to be, while being respectful and cordial to everybody while he was doing it."
Share:
Correction: An earlier version of this story has been amended to indicate that Wharton-Lake is one of eight black residents currently enrolled in USC's graduate dentistry programs. He is not the only African-American student in the graduate programs.