The 22-year-old Hammouri-Davis wanted to do more than help lead a demonstration. So, with a Trojan alum from the School of Cinematic Arts, Hunter Bermudez, she produced a video for a poem she had written called "Freedom."
A Facebook post drew a random response from filmmaker Bermudez. The video would be her first for "Break the Boxes," a non-profit organization that leads poetry and capoeira workshops for underprivileged children.
Bermudez says they started to make the video for "Freedom" by just having a simple conversation about how they "feel about the current state of the world be it economic or political or social."
Hammouri-Davis has poured her soul into "Break the Boxes." No longer just a spoken word series on YouTube, it transformed into a non-profit centered on empowering at-risk youths in LA through spoken word poetry at different schools.
The next wave of campus protests in the spring of 2016 reinforced Hammouri-Davis' view that sit-ins were not enough.
So she began to work at a non-profit called Leveling the Playing Field for Children as a way to channel her anger into empowering youth.
"Having this culture repeat itself was numbing in a way," she said. "But it also was reaffirming strangely in that this work is what needs to be done, so it kind of motivated me to press harder into 'Break the Boxes' and to pour myself even more into it and get partnerships with schools."
Bermudez and Hammouri-Davis are still collaborating as friends and creative partners. Bermudez says their work centers on poems and pieces of art that emphasize universal themes.
"The project we're working on now is about childhood and this feeling of desperation that you feel when you become an adult and realize that things aren't as they always seemed and there's a lot more negativity in the world than you want there to be," Bermudez said.
To reach this moment of creativity, he and Hammouri-Davis have had countless conversations about spirituality and religion, their personal lives and the world itself.
Hammouri-Davis is continuing her work with "Break the Boxes" and hopes to partner with LA Promise Fund to bring two pilot workshops to Manual Arts High School in 2017.
The Build-Up
Hammouri-Davis' journey to this place in her life wasn't an easy one.
She graduated from USC in May 2016 with a bachelor's degree in psychology and is completing her second undergraduate degree in visual and performing arts studies.
Hammouri-Davis was born in Kea'au, Hawaii. When she was 7, she and her mom, Tamara Hammouri, and three siblings moved to Florida. Their parents had divorced and their mom decided it best to move to the mainland.
Hammouri-Davis was struggling with the change. To help her daughter cope, Tamara Hammouri found an outlet.
"It was there that I got introduced to capoeira," Hammouri-Davis said with a light in her eyes.
Capoeira, a Brazilian martial art, originated in Bahia by slaves who were brought over from Angola and Congo. To disguise their method of self-defense, they styled it in the form of a dance.
At the small studio in Pompano Beach, Florida, Hammouri-Davis discovered her love for capoeira.
"My capoeira professor took me under his wing and allowed me to help lead youth beginner classes, because I caught on quickly," she said. "So, I would travel to South Beach and do little performances. I'd be that little kid amongst the adults, and I'd lead a few workshops when we went to ballets because I wanted to learn more about the culture."
She didn't know much about Brazil or the culture behind capoeira, but liked this style of dance, and the freedom — and the power — that came with it.
"I just knew that this felt great. I loved being there. I loved the community. I loved the healthy environment and the positivity, meeting new people and learning about the culture," Hammouri-Davis said. "I stayed training for five years nonstop."
But at the age of 12, her life took another unexpected turn. Her family was moving back to Kea'au so her older sister could go to high school in Hawaii at home.
"I did not want to leave," Hammouri-Davis said with a short laugh. Like any 12-year-old who has to move thousands of miles away from friends and school, she was finally achieving her goals. She planned to play softball the next year. She had great friends. She was comfortable there. She was home.
Her laugh is the kind one has after life seemingly breaks apart and comes back together — more beautiful and fulfilling than before.
"There was no capoeira, so I was devastated. It was the most difficult time in my life because of such a huge transition and at that adolescent age you need stability," Hammouri-Davis said. "Luckily, I've always been active so I turned to basketball and I met this amazing basketball coach — Coach Wade — who really taught me more about life and having character."
For two years, Hammouri-Davis worked with Wade and even became best friends with his twin daughters, who were her age. Wade guided the three girls on and off the court. Another big event was about to occur.
"He shared with me that he was struggling with leukemia. And my freshman year, we made the varsity team and that was his goal," she paused briefly as a slight breeze ruffled her voluminous, curly, brown hair.
A week later, Wade died.
At first, Hammouri-Davis didn't know how to deal with his death. She grew quiet and reserved, but kept playing basketball to honor his memory and everything he taught her.
She wrote a song in his honor and sang it at his funeral.
Bermudez says this is the kind of person Hammouri-Davis is. She is open, caring, genuine and inspires others, including him, to be their best selves.
"At least in the way she expresses herself, she's very hopeful," Bermudez said. "Although I know that we've talked about falling into traps of cynicism and depression, but despite that, she's very strong and always puts her best foot forward."
Overcoming grief, Hammouri-Davis focused on school, but her school in Kea'au wasn't challenging enough. She pleaded with her mom, begged her to move the family somewhere else. Her mother heard her, and the family moved to Oahu, where Hammouri-Davis attended James Campbell High School for her junior and senior years. She took AP language classes and fell in love with writing. She began to journal.
But her journaling took off when she found — in her words — a "spiritual outlet."
"I had never been forced to go to church. [My parents] come from very liberal backgrounds and a mixture of different religions, so I always had that freedom choose," Hammouri-Davis said.
While exploring different clubs at her high school, she came across a few that encouraged students to tap into faith, specifically a Christianity club that gave her a different experience with religion than she had previously had.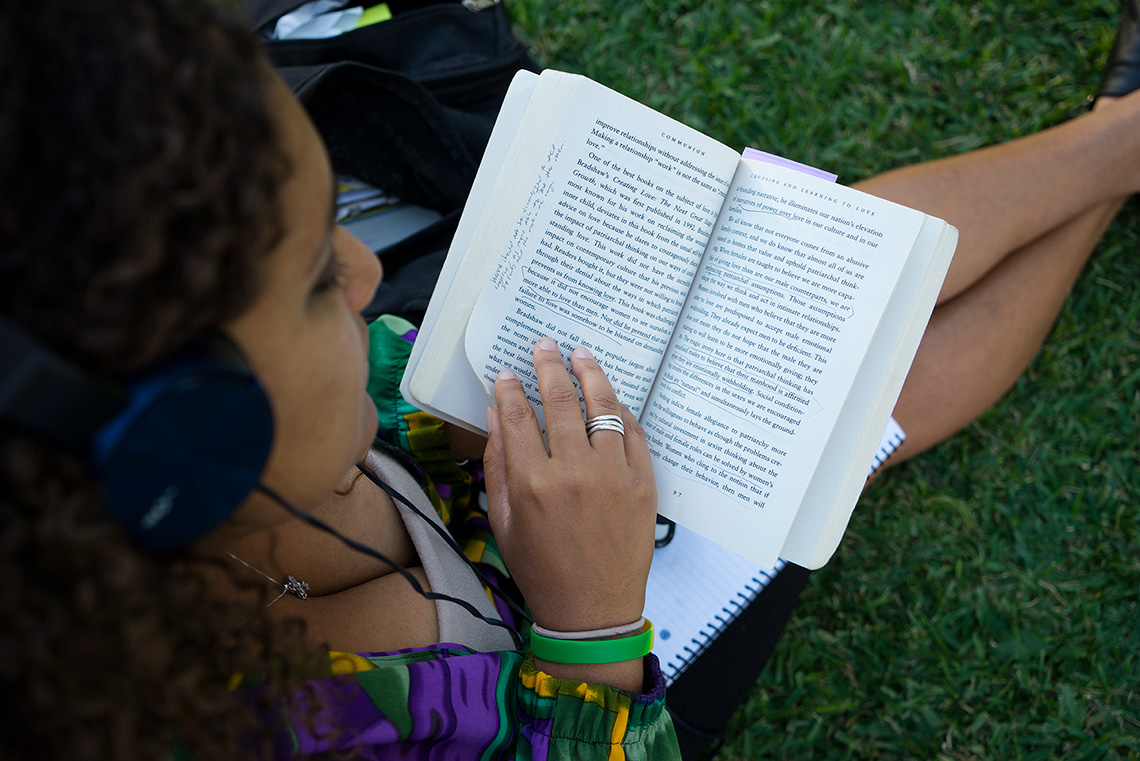 Photo by Maral Tavitian
The Outcome
Her writing and faith helped Hammouri-Davis when she started at USC in fall of 2012. As the first one in her family to pursue a four-year university degree, she felt a need to absorb as much information as possible. The odds told her it would be rough.
"Especially if you are a first-generation college student, it's harder, but also being a minority, a woman of color, at a predominantly white institution statistically was more difficult," she said.
She sought a place at USC where she could feel safe and at home. That's when she heard of Somerville Place, an African-American residence hall at USC. People questioned her motivations for living on a one-race, interest floor — "Why would you self-segregate?" they asked her.
But for Hammouri-Davis this floor was more about the need to come home than it was for her to distance herself.
"It doesn't mean segregating yourself, but for me, learning about my African roots, my black culture. That's something that I really fostered when I was in Florida and I missed a lot," Hammouri-Davis said. "I always felt like I was missing out by moving back to Hawaii. In hindsight, of course, I see how everything was a blessing in disguise."
Although Florida was a place she felt connected to ethnically, it wasn't the most conducive to a successful future.
"A lot of my friends who were in my inner circle in Florida kind of fell into the stereotypes and statistics," she said. "They were getting pregnant at a young age. Almost all of them have a kid by now, and some of them went to jail."
This is when Hammouri-Davis noticed the quasi-cosmic alignment in her life. She believes a higher power was at work.
While celebrating the blessings in her life, Hammouri-Davis joined multiple Christian organizations at USC, participated in Gospel choirs and focused her energy on creative expression and performance, especially through hip- hop. She continued to perform capoeira and immersed herself deeper into Brazilian culture.
She was performing spoken word pieces and dreaming big dreams, but wondered if it was going anywhere.
The spring semester of her junior year at USC, Hammouri-Davis made a promise to her friend that they would hold each other accountable and do what they loved. The how didn't matter, Hammouri-Davis said, "we have to do what we love."
For now, Hammouri-Davis is determined to continue her work in the community through capoeira and spoken word.
"I want to make sure that I soak it in as much as possible and then give back and share as much as I can through the writing, through the creative work," Hammouri-Davis said. "And really be a voice for the voiceless."
Share: